McLennan County Divorce Attorneys
Helping Families Build a New Future for Over 20 Years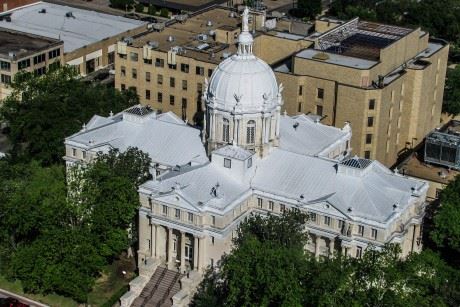 Divorce can feel lonely. You'll have to independently make decisions about your future that you would otherwise have made with your spouse. Facing the court and building a life for yourself is incredibly emotional, and there are few opportunities to process what divorce means for you in the future. However, that doesn't have to be the case when you hire the right legal team to support you through the process.
The Law Office of Brett H. Pritchard has over two decades of experience helping families navigate the divorce process. Our compassionate legal team puts you first. We work with you to understand your circumstances and help you build a strong foundation for your new life.
Schedule a consultation with our McLennan County divorce team today. Call (254) 220-4225 for more information.
What to Expect During a Texas Divorce
Most states have their own rules for divorce proceedings, including Texas. A general rule to keep in mind is that divorce cases are either contested or uncontested. Acontested divorce means that both parties cannot agree on one or more parts of the settlement. On the other hand, spouses who agree on every aspect of the divorce settlement have an uncontested divorce. From child support and visitation to asset division, there are several important rules to keep in mind.
Rule #1: More assets than you think are subject to equitable division. While divorce usually involves the division of property between spouses, Texas has a different approach. Marital property is separated into two groups: community and separate property.
Separate property is what you own before marriage, or items you purchased with individual funds during the marriage. A couch from your college apartment is separate property, but a house bought by you and your spouse is not.
Community property is property purchased with funds from a joint bank account, and it is subject to equitable division. This becomes complicated when one or both spouses own a business or have a high net worth. Business assets are subject to division, and in cases where a spouse has a high net worth, ownership of valuable property is more likely to be contested.
Rule #2: Child support and custody is ultimately the judge's decision. He or she will decide how much support to award and determine who will have physical and/or legal custody by evaluating both parents' financial and behavioral fitness.
For example, suppose after property division that one parent is financially unable to maintain a standard of living and provide for the child. In that case, the judge may award more child support to that parent to fill the gap. On the other hand, if there is documented abuse or neglect, the judge will not award physical custody to the guilty parent.
Rule #3: In addition to child support, the judge is also responsible for setting an amount for spousal maintenance. Spousal maintenance, or alimony, is not mandatory in a Texas divorce case. If the judge finds that a spouse needs funds to help them get a degree or employment training to maintain a standard of living, he or she will require the other spouse to pay a sufficient amount of spousal support to bridge any gaps.
Preparing You for Your Divorce Case
Whether you have an uncontested or contested divorce or a high net worth and business assets, the Law Office of Brett H. Pritchard is here to help. Our firm understands the complex legal issues associated with divorce, and we have over two decades of experience in and out of court. From filing to the Final Decree, put your case in good hands with the Law Office of Brett H. Pritchard. We offer confidential consultations and a military discount for service members.
Schedule your initial consultation with our McLennan County divorce lawyers today. Brett H. Pritchard

Our lead lawyer, Brett H. Pritchard, is a graduate from Brigham Young University and Texas Tech University. Earning an exemplary reputation as an aggressive and formidable trial lawyer, Attorney Pritchard is ultimately passionate about protecting his clients' rights.

Brent T. Sykora

Attorney Brent T. Sykora has a wealth of experience in the legal realm, stemming firstly from his First Chair litigation experience in both federal and state courts, administrative hearings, and ADR proceedings.

Danah Woods

Danah Woods has a broad range of state and federal civil litigation experience including trial, discovery, and mediation and has practiced throughout the State of Texas. Danah began her career working in the insurance industry as a claims adjuster and ...

Darmeisha Slay

After graduating from St. Mary's University, she practiced as a Paralegal at the Law Office of Brett H. Pritchard until her acceptance into the Thurgood Marshall School of Law in Houston, Texas. While at TMSL, Darmeisha was accepted to practice in the pro bono Family Law Clinic where she represented indigent clients in uncontested and contested divorces.

Jeff Linick

With a background in business and finance prior to going to law school, Mr. Linick worked for several years in the insurance industry with USAA, a company closely associated with the armed services.

N.J. Gaunt

Senior Litigator

Nicholas J. Gaunt has been licensed as an attorney and mediator in Texas since 2009. He has practiced

family law

and

criminal defense

extensively in Bell, Coryell, Lampasas, & Milam, as well as Collin, Dallas, Denton, Travis, and Bexar County.
Thousands of Clients Helped

Honest Advice & Counsel

Military Discount

Emergency Appointments

"Hands-On" Approach

Highly Recommended

Track Record of Success

Free Initial Consultations Law Office of Brett H. Pritchard 1201 South W.S. Young Dr.
Killeen, TX 76543
Quality Legal Services at Affordable Rates Offering reduced payments and flexible payment plans during this time.