Killeen Military Divorce Attorney
We Serve Divorcing Military Couples in Killeen & Throughout Texas
Call the Law Office of Brett H. Pritchard today if you are getting divorced and either you, your spouse, or both are currently or have been part of the United States Armed Forces.
We understand the unique challenges military couples face when dividing property, creating parenting agreements, and addressing complex matters such as benefits and retirement funds. Allow us to simplify your divorce by providing wise counsel and guidance from the very beginning.
Call (254) 220-4225 today to speak to a Killeen military divorce lawyer.
Unique Challenges of Military Divorce in Killeen, TX
Servicemembers Civil Relief Act (SCRA)
The Servicemembers Civil Relief Act (SCRA) protects spouses in active military service from court proceedings and civil actions, including divorce. This doesn't mean you cannot file for divorce against a spouse who is on active duty, but it does mean your efforts to dissolve the marriage will likely be halted until their return or 90 days thereafter. You will likely be unable to proceed with your divorce until your spouse is able to appear in court.
Establishing Residency in Texas
Moving from state to state may pose a challenge for military couples who wish to divorce. Divorce laws vary by state, and a local court must have official jurisdiction before it can hear a family law case or allow two people to dissolve a marriage, which usually means that divorce must be filed in the locale where the filing spouse resides. However, residency requirements can sometimes be waived for military couples in which the filing spouse is not a legal resident of that state.
Alimony & Child Support in Military Divorces
Active duty, deployment, and other aspects of military service pose financial challenges for servicemembers, their children, and ex-spouses. Though the paying spouse may be away for long periods of time or unable to communicate with children and former spouses, spousal maintenance and child support payments can be ensured through wage garnishment, voluntary payment, official court order, and other means, if necessary.
Military Benefits & Pensions
Matters of military benefits are usually the most complex and confusing for divorcing couples, especially those who have been married for more than 10 years. The 10/10 rule dictates that spouses who have been married for at least 10 years of one spouse's military service may be eligible to receive a share of their spouse's military retirement benefits after divorce. State laws often dictate exactly how much pension a former military spouse may receive.
Spouse who have been married for more than 20 years of their partner's military service may be eligible to receive full medical benefits and maintain exchange privileges and commissary access.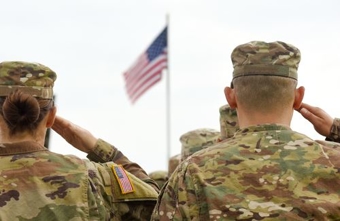 Don't Call Just Any Divorce Lawyer
Not all divorce attorneys are equipped to handle the complexities and unique difficulties that military divorce presents—but we are.
When you call the Law Office of Brett H. Pritchard, you will have access to our in-depth knowledge and experience handling military divorce and family law cases. Our Killeen military divorce attorneys may be able to represent you during this challenging time. Connect with a member of our team as soon as possible and allow us to protect your best interests throughout the divorce process.
We're here to help you. Send us a message to schedule your consultation with a Killeen military divorce lawyer and learn more about our experience handling military divorce cases.